According to General Hospital Spoilers For The Next Two Weeks (November 13–24, 2023), Ned will finally regain his memory this week. Does that imply Nina's time is up, or does she have more time to live? Continue reading to learn more. Charlotte, meanwhile, survives despite unintentionally being shot. She still won't tell her father the whole truth, though. In reality, how far will this go? And in light of everything, are Anna and Valentin truly done for good? See what's below!
Quartermaine Family Celebrates Ned, Willow Questions Michael
This has been long time coming, but has finally arrived! Ned Quartermaine regains his memory in the upcoming episodes on General Hospital. A wave of joy erupts in the Q-Mansion when Ned has a memory rush and soon puts Eddie behind him. He also recalls the whole Nina and SEC fiasco. However, Olivia stops him short of exposing Nina to Drew and Carly and asks him to stay shut for the time being. We wonder what's going on in her head. Also, watch out for a heart warming father-daughter reunion between Ned and Brook Lynn, as she was certainly missing her father's real persona. Although, she may admit that Eddie wasn't so bad after all.
General Hospital spoilers reveal that Michael continues to carry a certain disdain for Nina, something that Willow picks up on during the week of November 13, 2024. She pushes him to admit that he is not on-board with Nina spending time with her and the kids. This will certainly put Michael in a sticky situation, as he is hiding a huge truth from Willow. As much as he may want to admit the truth, he can't because it will just go on to destroy Willow's new found happiness. So stay tuned to see how he navigates the situation. Meanwhile, Nina finds herself forced to sell Carly her share of the hotel as per Michael's demands.
Spencer Makes A Plea To Esme, Austin Confesses To Dante
Trina confides in Ava while she is in Port Charles elsewhere. According to General Hospital spoilers, Trina is still concerned about how much time Spencer is spending with Esme and Ace. Will the advise Ava gives her be beneficial for the young couple? It is certainly much needed. We'll just have to wait and see! Spencer begs Esme not to move out in the interim. He will stop at nothing to ensure that she and Ace continue to live with him! Will he be able to persuade her, though?
Ever since Austin's truth came out to Ava, he has been devastated on General Hospital. During the week of November 13, 2023, he decides to make a full confession to Dante. In turn, the latter puts him through a grilling session at PCPD for all the details. However, as soon as word reaches Cyrus, he issues the doctor a harsh and menacing warning. It looks like as of now things will only get worse for Austin. Do you think he will be able to find a way to wiggle out, or at least win Ava's forgiveness?
Nina Tries To Get Through To Charlotte, Anna Rips Into Valentin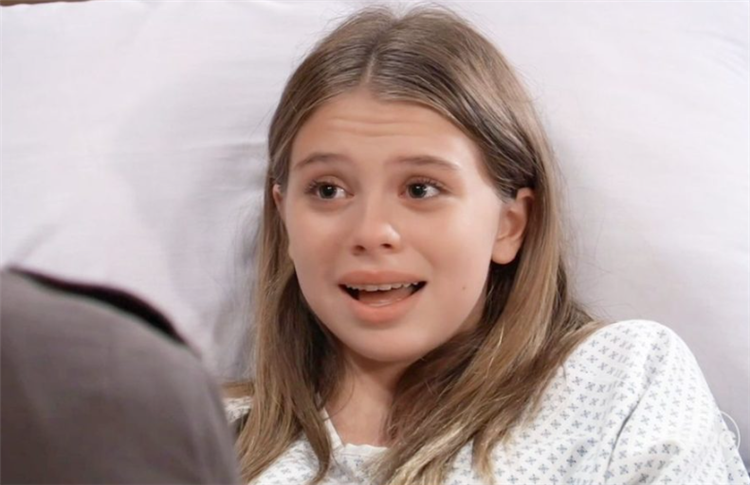 As we approach the week of November 20, 2023, Charlotte triumphs over her illness and receives a visit from Valentin and Nina. The latter makes an effort to get Charlotte to talk to her. But the wild teenager won't give Nina any information about General Hospital. Later, Valentin makes an effort to communicate with his daughter in an effort to understand what is truly going through her thoughts, but his efforts might also be in vain.
General Hospital spoilers reveal that Anna and Valentin have yet another face-off in the upcoming episodes. Previously, Anna had made it pretty clear to Valentin that she cannot forgive him for what he has done. But, he may still try to urge her to forgive him or at least, listen to his side of the story. However, she won't budge. Thus, making it look like their relationship has fallen apart beyond repair. Later, Robert offers Anna some support and might even treat her to a surprise in form of Emma Scorpio dropping by for Thanksgiving.
Sonny Makes An Offer To Sasha, Curtis Confesses To Jordan
Speaking of thanksgiving, Sonny makes Sasha an offer to perhaps join his family for the holiday, so she does not have to spend it alone. Later, he will have a confrontation with Cyrus. Although, it will be subtle one, but might end up building up in the following episodes. Meanwhile, Kristina too, extends a Thanksgiving invitation to Blaze to join her family on General Hospital.
It looks like the two ladies continue to grow closer on the ABC soap, as later Blaze invites Kristina to join her for a recording session. Over at the Quartermaine's more family drama will erupt when Ned lashes out at Carly and Drew over something. Later, Lois' mother also drops a surprise visit on Thanksgiving.
In another scene in Port Charles, Curtis confides in Jordan about his true feelings regarding General Hospital. His need for a wheelchair might be a contributing factor in this. The week of November 20, 2023, Jordan makes the decision to surprise Curtis by planning a spectacular Thanksgiving with Laura's assistance. This could really help him feel better. So keep an eye out for some incredibly touching family moments as PC becomes overtaken by the holiday season. For additional General Hospital news in the interim, keep checking back with TV Season & Spoilers.