It's not easy going the distance on TV, and not many shows are able to cross the 200-episode mark. But the CBS police procedural "Blue Bloods" just so happens to be one of the lucky ones. The series has kept fans entertained to the point where it has crossed the 200-episode milestone and even surpassed the episode count of Tom Selleck's other popular program, "Magnum P.I." That fact has been a conflicting experience for the seasoned actor.
According to his robust IMDb page, Tom Selleck has impressively amassed over 80 credits to his name, arguably solidifying his status as a key player in the industry that continues to deliver. However, it seems pretty obvious which two projects are arguably his biggest claims to fame. While some would argue the "Jesse Stone" made-for-TV films or his tenure on "Friends" are Selleck's most notable roles, none come close to the two roles in which home audiences most appreciated Selleck's signature stache — Thomas Magnum in "Magnum P.I." and Frank Reagan in "Blue Bloods."
It seems safe to presume that his roles in both "Blue Bloods" and "Magnum P.I." have been impactful affairs in his life. While he did not appear in the "Magnum P.I." reboot, his loyalties to Thomas Magnum seem to have not faded at all. This is especially noticeable considering how uneasy Selleck felt when "Blue Bloods" became the gig on his resume with the highest episode count.
Selleck would have preferred the two shows end in a tie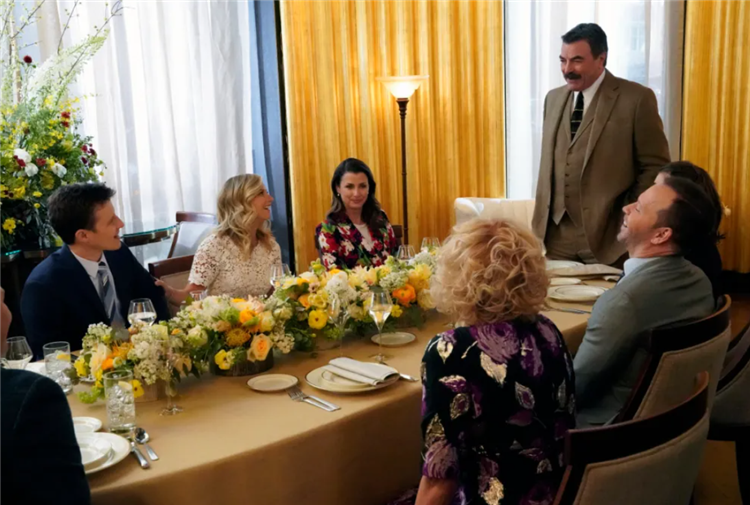 Tom Selleck's "Magnum P.I." ran from 1980 to 1988 and aired 165 episodes, making it the longest-running program of his career for a long time. But "Blue Bloods" changed that, thanks to the eighth season, when the CBS title was able to usurp the title of the Tom Selleck series with the most entries. Not long before the noteworthy accomplishment for the police procedural took place, the star of the two shows was asked how he felt about Frank Reagan surpassing the legacy of the original Thomas Magnum. "I feel a little funny about that," Selleck told "CBS Mornings" (via YouTube). "It was such an important thing in my life, you know, and I consider this equally as much of a gift. So, I don't know. Maybe we ought to tie."
On paper and onscreen, the two roles seem very different. But Selleck not only believes they share a lot of creative DNA, but also has a soft spot in his heart for the two purveyors of crime drama justice. He isn't afraid to admit he lucked out twice in his career with these two shows, which is more than most people in Hollywood can say. While the number of chapters released may be a bit one-sided, "Magnum P.I." and "Blue Bloods" will always rewardingly be remembered as equally exceptional experiences for Selleck.